Farmer's Wife Sampler Block 30
I have been trying to finish some WIPs that I have neglected my Farmer's Wife Sampler quilt.  I have recently  finished my youngest daughter's quilt so I took a break to make Block #30 End of Day :).
Here are my 15 blocks so far for Farmer's Wife Sampler quilt.  Except for one block, they were all made by foundation paper piecing.
I am linking this blog post with Stitch by Stitch's Anything Goes Monday (28th Oct 2013), Blossom Heart Quilts' Sew Cute (29th Oct 2013), Freshly Pieced's WIP Wednesday (30th Oct 2013), Quiet Play's Paper Piecing party (1st Nov 2013).  You can find out more information for both here: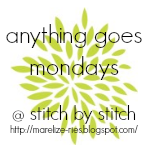 Now back to quilting/finishing my other daughter's quilt :).